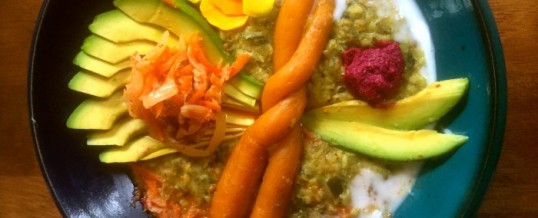 Having been an avid promoter and lover of Ayurveda since 1999, there have been times when Kitchari (the traditional and easy to digest meal given to those who are cleansing), became synonymous with 'bland & boring' – never the first choice, always the sensible choice.
Fast forward to 2015 when a gamut of organic and delicious fermented foods, fresh local produce and exciting preparations grace the aisles of our local health food markets, and Voila! – let the Kitchari renaissance begin.
The key to mouth-savoring kitchari is pulling off a simple base recipe combined with varied raw, fermented and cooked toppings that represent the 6 Ayurvedic tastes: sweet, sour, salty, pungent, bitter, astringent. The following recipe is pictured in the photo, and to date, the most satisfying and sensational kitchari I have ever tasted. Happy Cooking!
Ingredients
Serves 3-4
Use all organic ingredients:
½ cup basmati rice
½ cup whole green mung beans
2 medium carrots (entwined in loving embrace whenever possible)
2 medium zucchini
2T coconut oil
1 bay leaf
3 tsp ground coriander seeds
½ tsp ground fennel seeds
1 tsp ground cumin seeds
1 tsp garlic powder
2 tsp fresh peeled & grated ginger
½ tsp turmeric
¼ cup chopped yellow onion
3 tsp dry wakame seaweed
1 tsp pink salt
5 cups water
Garnishes
Ginger and turmeric marinated in meyer lemon juice
Korean style kimchi
1/2 avocado
1T Beet ganoush
2T coconut milk
Pink salt & pepper to taste
Preparation
Wash green mung beans and soak overnight
Drain soak water and rinse mung beans before cooking
Wash carrots, and cut in your favorite way
Wash & cut zucchini into 1-inch pieces.
Easy pressure cooker method:
In the pressure cooker (before closing), warm the coconut oil over medium heat
Add the fennel, cumin, ginger, coriander, garlic and turmeric and sauté for one to two minutes, just until very fragrant, stirring the whole time
Add rice and mung beans and sauté for another minute or two
Add the carrots, zucchini or other vegetables. Stir for a minute.
Then add the 5 cups of water, salt, seaweed and bay leaf
Close the pot and pressure cook 45 minutes (the beans should be completely soft and formless)
Garnish with your favorite toppings – representing all of the 6 Ayurvedic tastes

Sweet: coconut milk & avocado
Sour: lemon marinade, kimchi
Salty: pink salt, kimchi
Pungent: marinated ginger, kimchi
Bitter: marinated turmeric, kimchi, beet ganoush
Astringent: kimchi
Share